Index of Canadian Artists (Visual Arts) ---Y
Répertoire des artistes canadiens (Arts visuels)---Y

Par / By François Lareau © François Lareau, Ottawa, 1998-,
flareau@rogers.com


A-B-C-D-E-F-G-H-I
J-K-L-M-N-O-P-Q-R
S-T-U-V- W-X-Y-Z



Votre nom appar

aî

t déjà dans cet index sous la lettre Y ou
vous voulez inscrire votre nom dans cet index. C'est gratuit!

Si votre nom apparaît déjà dans ce répertoire et vous avez un site web, écrivez-moi à flareau@rogers.com en me donnant l'adresse internet de votre site pour ajouter un lien à votre site --

c'est gratuit

.

Si vous n'êtes pas inscrit, et vous voulez l'être -- voici les conditions 1-. vous devez être un artiste canadien en art visuel ou un artiste en art visuel qui vit au Canada; 2- vous devez avoir un site web 3- vous devez m'écrire à flareau@rogers.com en me donnant votre nom et l'adresse internet de votre site pour faire l'inscription et le lien --

c'est gratuit

.

Your name is already in this index under the letter Y or
you want your name added to this index. It's free!

If you are already listed in this index and you have a web site, write me at flareau@rogers.com giving me the internet address of your site in order to add a link to your site --

it's free

.

If you are not listed and want to be -- here are the conditions : 1- you must be a Canadian artist in visual arts or an artist in visual arts living in Canada; 2- you must have a web site 3- you must write me at flareau@rogers.com giving me your name and the internet address of your web site --

it's free

.


References in parentheses / Références entre parenthèses

Y



Y like in / comme dans Young, John Crawford, 1778-c1859, British army officer,

Indien et




Canadien-français, place du Marché, Québec

, circa 1825-1827, aquarelle, Musée des
beaux-arts du Canada, Ottawa (29214.2)
Y
References in parentheses / Références entre parenthèses




See also the "Y" list of "Artists in Canada" from the Canadian Heritage Information Network -- Y
Voir aussi la liste "Y" pour "artistes au Canada" de Réseau Canadien d'information sur le patrimoine-- Y


Ya'Ya Ts'itxstap, see/voir Heit, Chuck
Yahgulanaas, Michael Nicoll, 1954-, modern and contemporary artist, mixed media; artist's site
Yale, de la France, (Roussan 2001)
Yamanda, Heather Midori (12 April 2014)
Yamada, Ruth, 1923-, (The Canadian Society of Painters in Water Colour; Biographical Index of Artists in Canada)
Yaneff, Christopher, 1928-, (Biographical Index of Artists in Canada)
Yankovick, Martin (Folk Art Outdoors)

References in parentheses / Références entre parenthèses

Yanofsky, Avrom, 1911-, (Lord; Biographical Index of Artists in Canada; History of Canadian Political Cartooning)
Yanover, Shirley (YYZ Artists' Outlet: 1979-1989)
Yap, Kenneth (Illustrateurs et illustratrices du Québec 1997-1998; Illustrateurs et illustratrices du Québec 2000-2001)
Yardley-Jones, John, 1930-, (Biographical Index of Artists in Canada; History of Canadian Political Cartooning)
Yaroslawsky, Semen, 1899-1966, (Biographical Index of Artists in Canada; Tradition ukrainienne au Canada)
------


1957 photo, front row, sitting on the floor, left to right: Walter Yarwood, Ray
Mead, Barbara Worth; back row, left to right: Albert Franck, Trudy Tredwell,
Harold Town, Kazuo Nakamura, and Helen Yarwood.

Yarwood, Walter Hawley, 1917-1996, (McKendry; Reid; Leclerc;
------Harper; Sir George Williams University; Art public de la ville de Montréal; Art
------Gallery of Ontario; Burnett; Balkind; Duval; Lord; Queen's
------University; années 50; Art Gallery of Hamilton;
------Toronto Painting : 1953-1965; Creative Canada, 1972;
------Allied Arts Catalogue 2; Art Auctions 1976-1978; Biographical Index of Artists
------in Canada; Ontario Collection)



Walter Yarwood, Dark of the Moon, steel with brazing, 68" x 37" x 10"


[Image reproduced from the following book: Agnes Etherington Art Centre, Permanent Collection 1968,
[Kingston: Agnes Etherington Art Centre Queen's University at Kingston], 1968, at p. 153.]

Google -- Images for Walter Yarwood, 1917-1996


------
Yarymowich, Anne, 1956-, (Tradition ukrainienne au Canada)

References in parentheses / Références entre parenthèses

Yassic (Sculpture/Inuit 1971, plate 274)
------

Source of image: londonpoetryopenmic.com/frank-davey-blog/canadian-painter-norman-yates-1923-2014, accessed 23 January 2017
Book on Norman Yates:
Salt, Jim R., Norman Yates, 1923-, Fran Willis Gallery, Norman Yates : retrospace : selections for a retrospective / introduction by Fran Willis; essay by Jim Salt ; French translation by Arlette Francière
Retrospace, Victoria, BC : Interspace Press, c2010, 29, 31 p. : col. ill., port. ; 18 x 22 cm.; Notes: Added title page title: Norman Yates : retrospace : oeuvres sélectionnées pour une rétrospective. Includes bibliographical
references. Text in English and French on inverted pages. Catalogue of an exhibition held from Nov. 4-27, 2004, at the Fran Willis Gallery in Victoria, B.C. ISBN: 9780986794605 (AMICUS catalogue).
Yates, Edward Norman, 1923-2014, (Roundstone Council for the Arts;
------McKendry; Alberta artists; Shell Canada Collection;
------Roundstone Council for the Arts 2; Biographical Index of Artists in Canada)
------
Yates, Kevin, 1974-, (Vie des arts, numéro 221, vol. 45, hiver 2010-2011, p. 79; National Gallery of Canada -- Recent Acquisitions)
Yates, Paul (Photos 1895-1924)
Yates, Richard, (L'estampe à Québec; Toronto Dominion Bank Collection)
Yates, Richard, 1949-, (Printmaking in B.C., 1889-1983)
------

Yates, Robert (Bob) Clark, 1946-, born in Kingston, Ontario; artist's site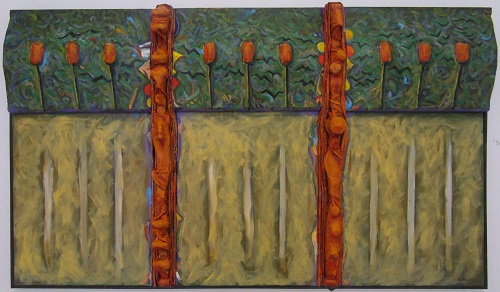 Robert Clark Yates, Below a Birdless Silence, 2015, acrylic on canvas,
2'8" x 4'4"; I would like to thank the artist for his permission to reproduce
(5 March 2017).
------

Yates, Whynona, 1926-, (Alberta artists; Biographical Index of Artists in Canada)
Yayo (Yayo-Diego), voir/see Herrera, Diego (Diego Herrera) (Illustrateurs et illustratrices du Québec 1997-1998; Illustrateurs et illustratrices du Québec 2000-2001)
Yearington, Tim, 1965-, (Art Impressions Magazine 1995 Annual Directory of Artists' Profiles at p. 22)
Yee, Connie (Being Scene 2007 Art Exhibition)
Yefman, Boris, 1940-, (Vallée 93)
References in parentheses / Références entre parenthèses
Yeigh, Frank, 1860-, (Biographical Index of Artists in Canada)
Yeltatzie, George, carver (Art Auctions 1976-1978; Indian Artists at Work)
Yeltatzie, John, Haida carver (Indian Artists at Work)
Yeomans, Don, carver (Indian Artists at Work)
Yeomans, Naneen, 1923-, (Biographical Index of Artists in Canada)
Yeomans, Nellie, Haida basket weaver (Artists at Work)
Yerex, Elton, 1935-, (Roundstone Council for the Arts; University of Guelph; Biographical Index of Artists in Canada)
Yergeau, Yergeau, soeurs, Nicole, 1948-, (Robert 89)
References in parentheses / Références entre parenthèses
Yero, Osvaldo (Vie des arts, numéro 224, vol. 46, automne 2011, p. 56)
------

Illustration by Leo Yerxa, on the front
dust cover of the following book:

Desbarats, Peters, 1933-, Université de Montréal, Département d'anthropologie, What they used to tell about : Indian legends from Labrador / collected by the Dept. of
Anthropology of the University of Montreal, edited and introduced by Peter Desbarats, [Toronto] : McClelland and Stewart, [1969], xix, 92 p. : col. illus. ; 26 cm
(François lareau, book collection).

Yerxa, Leo, 1947-2017, (Biographical Index of Artists in Canada; Thunder Bay Art Gallery)

Leo Yerxa, The Lost Doll, 1982, watercolour and tissue paper collage,
70.1 x 90.4 cm (framed), Collection of DIAND, Ottawa, Ontario; front
cover of the following book:

Yerxa, Leo, 1947-, Elizabeth McLuhan, Thunder Bay National Exhibition Centre, Renegade : the art of Leo Yerxa : March 16-May 6, 1984 /
organized by the Thunder Bay National Exhibition Centre and Centre for Indian Art, Thunder Bay, Ont.: The Centre, [1984], 48 p. : ill.
(some col.), port.; 22 cm. NOTES: Catalogue essay by the curator, Elizabeth McLuhan. Includes bibliographical references: p. 40.


------
Yerxa, Wayne, 1945-, (Biographical Index of Artists in Canada)

References in parentheses / Références entre parenthèses

Yevkiné (Yevkiné de Greef), (L'aquarelle au Québec --2)

------


Paul Ygartua, photo, reproduced from the
following book:
Beyer, Hubert, Cynthia M. Bunbury, Chemainus Festival of Murals Society, The Chemainus murals / [writers, Hubert Beyer, Cynthia M. Bunbury], Special 10th
anniversary collector's ed., Chemainus, B.C. : Chemainus Festival of Murals Society, c1993, 87 p., at p. 34: col. ill., col. maps, col. ports. ; 23 x 28 cm. NOTES:
Half-title: Mural capital of North America and the world, 1983-1993 Previous ed. has title: Chemainus, a celebration of Canadian heritage : the little town that
did! ISBN: 0969316119. (AMICUS Catalogue).


Ygartua, Paul, 1945-, (Biographical Index of Artists in Canada; Murs et murales; Murals of Chemainus, B.C.)


------
Ygrek, see/voir Lemay, Yannick
Yip, Alison, born in Calgary (Monte Clark Gallery Vancouver)
Yip, Chuk Wing, 1923-, (Biographical Index of Artists in Canada)
Yocha (Yolande Charbonneau), 1933-, (Vallée 89; Vallée 93;
------Collection Lavalin du Musée d'art contemporain de Montréal)
------
Yoon, Jin-me, 1960-,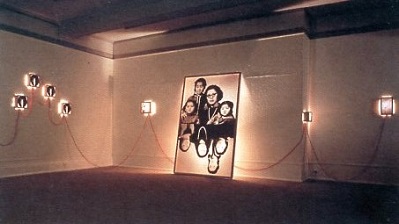 Jin-me Yoon "151. le corps est un fil fragile et la maladie, une
montagne (body a thread disease a mountain, seconde version,
1994), 13 caissons lumineux en bois, feuilles photographiques
en mylar, fil électrique rouge" dans
Nemiroff, Diane, Musée des beaux-arts du Canada, Traversées / Diana Nemiroff ... [et al.], [Ottawa] : Musée des beaux-arts du Canada, c1998, 2 v., dans le vol. 1 à la p. 182: ill. (certaines en coul.);
28 cm. NOTES: Publ. aussi en anglais sous le titre: Crossings. "Publié à l'occasion de l'exposition Traversées, organisée par le Musée des beaux-arts du Canada et présentée à Ottawa du 7 août au 1er
novembre 1998"-- Achevé d'imprimer. Comprend des réf. bibliogr. ISBN: 0888846878.

------
Yorke, Sir Joseph Sydney, 1768-1831, (Folk Artists; Biographical Index of Artists in Canada)
Yorke, W.H., act. 1887, (McKendry)
Yorke, William Guy, 1817-1882, (Biographical Index of Artists in Canada)

References in parentheses / Références entre parenthèses

Yorke, William Howard, 1847-, (Biographical Index of Artists in Canada)
Yoshikawa, Akira, 1949-, sculpt. (Biographical Index of Artists in Canada; Katzman Contemporary art gallery in Toronto)
------


Youds, Robert, 1954-, (Abstract Painting; Shape of Colour; Biographical Index of Artists in Canada;
------National Gallery of Canada -- Recent Acquisitions)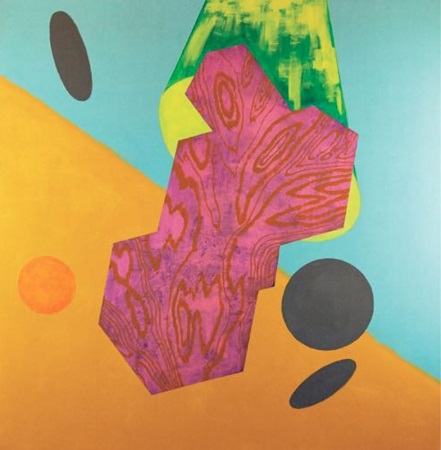 Image source: s3.ca-central-1.amazonaws.com/consignor-docs/catalogue/tfss-9bc816b8-f389-4c18-90b5-0b889bafb018-Fall.2015.Auction.Catalogue.web.pdf, accessed 5 Narch 2017
Robert Younds, untitled, 1986, acrylic on canvas, 62 x 62"


------
Young, C. Warburton, 1865-1932, (Art Auctions 1976-1978; Sales Index 1989-90)
Young, Clarence Richard, 1879-, (Biographical Index of Artists in Canada)
Young, Daniel, 1981-, 9Builders: Biennial 2012)
Young, Denis (Collection des livres d'artistes de la Bibliothèque nationale du Québec)
Young, Edward, born early 1920s, basketmaker, (Craftsman; Oeuvres d'artisans)
Young, Eva (Oeuvres d'artisans)
Young, George, 1732-1810, (Biographical Index of Artists in Canada)

References in parentheses / Références entre parenthèses

Young, George MacDonald, 1908-, (Biographical Index of Artists in Canada)
Young, Gordon (Collection Desjardins d'oeuvres d'art; Galerie de Bellefeuille -- 2015)
Young, Gwynyth, 1973-, (Ontario Collection)
Young, Jean (YYZ Artists' Outlet: 1979-1989) /
Young, John (Jack), c1894-1963 (Art Auctions 1976-1978; Biographical Index of Artists in Canada;
------Sales Index 1989-90)
------
Young, John Crawford, 1778-c1859, British army officer, (McKendry; Biographical Index of Artists in Canada;
------Canadian Drawings; McCord Museum)
Young, John Crawford, 1778-c1859, British army officer, Traversier de la pointe
De Lévy, circa 1825-1827, aquarelle, 18,1 x 13,1, Musée des beaux-arts du
Canada, Ottawa (29214.21)

------
References in parentheses / Références entre parenthèses
Young, Judi Mitchell, 1950-, (Art in Ontario; Sculptors Society of Canada--2015)


Judi Mitchell Young, "Lineage Paradise, The Wexford,
Toronto, 3 dimensional spatial hanging: 21 tubular
sections of piping bounded by wool, jute and cotton,
16 1/2' x 14' x 1 1/2 feet."

[Image and description of Judi Mitchell Young's work of art are reproduced from the following book:
Parkin, Jeanne, William J.S. Boyle, Visual Arts Ontario, Art in Architecture: Art for the built environment in the Province
of Ontario, [Toronto] : Visual Arts Ontario, 1982, xii, 276 p., at p. 270: ill.; 31 cm. NOTES: Bibliography: p. 276, ISBN: 0920708048]

-----
Young, L. Juliet, 1878-, (Biographical Index of Artists in Canada)
Young, Melody (Galerie Laroche/Joncas Montréal)

References in parentheses / Références entre parenthèses

Young, Myrtle (Mattie), 1876-, (Biographical Index of Artists in Canada)
Young, Neil, born in Ottawa (ARTBOMB--19 June and 21 July 2014)
Young, Paul, 1937-, 9Biographical Index of Artists in Canada)
Young, Richard, (Folk Art)
------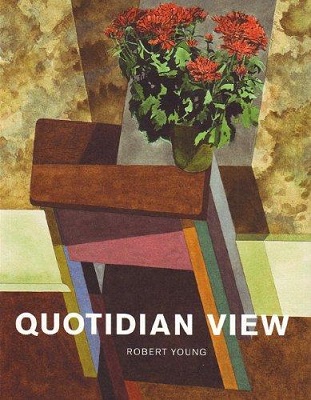 Image source: www.abebooks.com/servlet/BookDetailsPL?bi=6207120996&searchurl=kn%3Dcanadian%2520painter%26sortby%3D96
A Book on Robert Young:
Martens, Darrin J., Roger Boulet, 1944-, Robert Young, 1938-, Burnaby Art Gallery, Robert Young : quotidian view / [essays by Darrin J. Martens, Roger H. Boulet],
Burnaby, B.C. : Burnaby Art Gallery, [2009], 71 p. : ill. (chiefly col.) ; 23 cm. NOTES: Includes bibliographical references. Catalogue of an exhibition held at the
Burnaby Art Gallery, Burnaby, B.C., from Sept. 22 - Nov. 29, 2009. ISBN: 9780980996234.



Young, Robert, 1938-, (Printmaking in B.C., 1889-1983; Burnett;
------University of Guelph; Vancouver: Art and Artists 1931-1983;
-----Toronto Dominion Bank Collection; Biographical Index of Artists in Canada;
------Corporate collections)



------
Young, Robert, London, England, (Roundstone Council for the Arts 2)
Young, Ross, 1952-, (Roundstone Council for the Arts 2; Biographical Index of Artists in Canada)
Young, Teresa (ARTBOMB--1 and 8 April 2015)
------
Young, Thomas, 1810-1860, act. 1835-47 (McKendry; Harper; Lord; Biographical Index of Artists in Canada;
------Toronto in Art)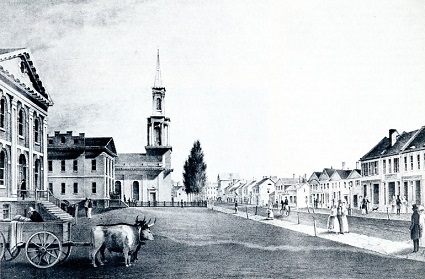 Thomas Young, Toronto, lithograph, 1835. "King Street showing
the Jail and the Court House with St. James' Church to the east,
drawn by Thomas Young in 1835"; text and image reproduced from
the following book:
Arthur, Eric, 1898-, Toronto no mean city/ [by] Eric Arthur, [Toronto] : University of Toronto Press, [1964],
xvii, 280 p., at p. 39 : ill., maps, plans, ports. ; 29 cm. NOTES: Includes index. Bibliography: p. 269-271.

------
Young (Zahara), Vida, (Tradition ukrainienne au Canada)
Young, Yone (Sales Index 1989-90)
Young Bates, Catherine (Collection Loto-Québec; Avmor Collection)
Younger, Piercy, (Gagnon; Société d'art contemporain, Montréal, 1939-1948); see also/voir aussi Porteous, Percy
------
Youngfox, Cecil, 1942-1987, (Sales Index 1989-90)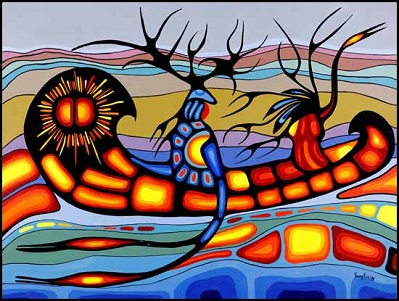 Image source: www.heffel.com/online/Big_Image_E.aspx?ID=75880&ImageID=52496&Main=True, accessed 10 February 2016
Cecil Youngfox, Returning to Happy Hunting Grounds,
acrylic on canvas, 91.4 x 121.9 cm / 36 x 48", lot number 143,
Heffel, On Line Auction catalogue, February 2016.

------
Youngs, Kathryn (Claridge Inc. catalogue)
Youhon, Du, (Roussan 2006)

References in parentheses / Références entre parenthèses

Yu, Daniel (Sculptors Society of Canada--2015)
Yu, Jinny, 1976-, (Vie des arts, numéro 224, vol. 46, automne 2011, p. 93)
Yu, Xiaoyang, 1950-, (Magazin'art Biennial Guide 98-99; Magazin'art
------Biennial Guide 2000-2001; Magazin'art Biennial Guide
------2002-2003; Collection Loto-Québec)
Yuen, Sandra (ARTBOMB--13 March, 9 May, 10 July, 7 August and 23 October 2014; 18 March, 14 April 2015 and
------22 May and 30 August 2015)
Yuhasz, Kim Elizabeth, 1953-, (Biographical Index of Artists in Canada)
Yule, Pamela Sarah Vining, 1826-1897, (Biographical Index of Artists in Canada)
Yumang, Jade (Wil Aballe Art Projects Vancouver)
Yung, Cindy (Treasured Moments: John and Monica Kurtz)
Yurchuk, Vera, 1941-, (Tradition ukrainienne au Canada)

------

Photo of Ernest Lindner with Russell Yuristy (right), 1973 (photo credit: University
of Saskatchewan Archives A 5169)
Yuristy, Russell (Russ), 1936-, (Roundstone Council for the Arts; McKendry;
------Sculpture Walks; Burnett; Balkind; Saskatchewan: art and artists; Biographical Index of Artists in Canada;
-------Tradition ukrainienne au Canada; Claridge Inc. catalogue; Festival of the Arts -- Ottawa; The Grand Western Canadian Screen Shop)
Google -- Imges for Russell Yuristy

------
References in parentheses / Références entre parenthèses
Yuxweluptun, Lawrence Paul, 1957-, (Newlands; First Nations; National Gallery of Canada -- Recent Acquisitions; Humour and Irony in
------Contemporary Native Art; Macaulay & Co. Fine Art Vancouver)


Lawrence Paul Yuxweluptun, Redman Watching Whiteman Trying to Fix Big Hole in Sky, 1990 (picture credit: Lawrence Paul
Yuxweluptun)

Text and image reproduced from following book:


Richard Rhodes, 1952-, A First Book of Canadian Art, Toronto: Pencier Books,
2001, 71 p., at p. 65, ISBN: 1-894379-21-7.


------
Yuzbaysian/Yuzbasiyan/Yuzbasigan, Arto, 1948-, (Vallée 89; Vallée 93; Toronto in Art; Biographical Index of Artists in Canada;
------Sales Index 1989-90; Marché de la peinture au Québec 1991/1992; Claridge Inc. catalogue)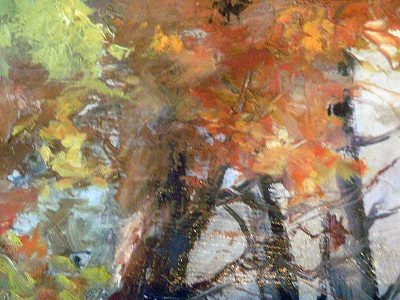 Arto Yuzbasiyan, oil on canvas, 7 1/2 x 9 1/2", image
reproduced from http://www.kijiji.ca, accessed on 5 November
2014.



------

References in parentheses / Références entre parenthèses

Yuzyk, Lucya Yarymowich, 1953-, (Tradition ukrainienne au Canada)